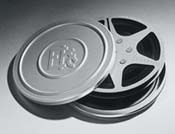 We can transfer your Super 8, Regular 8, 16mm or 35mm movie films to DVD video. (For VHS transfer, click here.)
Cost for the first roll and DVD (up to 50 feet) is US$60.00 ($30 at time of development), with each additional 50' roll $10.00. Shipping and handling per order is $6.00. (If your film is damaged, please call us for prices.)
Please make sure to arrange everything in numerical order. Duplicate DVDs available for $30 each.
Approximately 1500 ft of 8 mm fit on a DVD
Approximately 2500 ft of 16 mm fit on a DVD
Approximately 900 slides and photos fit on a DVD
7" = 400 ft $80.00
6" = 300 ft $60.00
5" = 200 ft $40.00
4" = 100 ft $20.00
3" = 50 ft $10.00
MEASURE ENTIRE REEL
FROM LEFT TO RIGHT
Service Time
This film is processed on a volume basis, so turn around time varies. Please allow between three and eight weeks for return to you.
Shipping
Please send your film, check, and your name and address in a padded mailer to:
ROCKY MOUNTAIN FILM LAB
DEPT Video Transfer
11801 E 33rd Ave Ste A
Aurora, CO 80010
USA
If you desire proof of delivery, please send your film via Certified U.S. Mail Return Receipt Requested.