AR5 Infrared Ektachrome Slide Films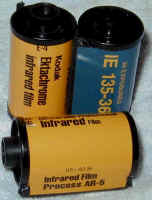 You have infrared film which includes the following types:
| | |
| --- | --- |
| | Infrared Film Process AR5 (yellow cassette) |
(for Black and White Infrared, please see our Black and White page; for 2236, please see our Ektachrome page).
Processing
The most recent version of this film can be processed one of two ways: AR5 or E6. We recommend AR5 processing for the best infrared response.
Expected Results
Kodak provides literature on storage and shooting of infrared films on their web site: try searching http://www.kodak.com for "infrared" and refer to the film insert.
Cost / Price
Cost for development is US$36.50 per roll with return shipping and handling $6.00 per order (not per roll). Therefore, one roll is $42.50, two rolls is $79.00, three rolls $115.50, etc. Free shipping on orders of more than ten rolls. International return, please add US$3 for shipping.
Service Time
This film is processed on a volume basis, so turn around time varies. Please allow three months for return. Large volume orders can be processed more quickly, contact us for details.
Shipping
Please send your film, check, and your name and address in a padded mailer to:
ROCKY MOUNTAIN FILM LAB
DEPT INFRARED SLIDE
11821 E 33rd Ave Ste A
Aurora, CO 80010
USA
If you desire proof of delivery, please send your film via Certified U.S. Mail Return Receipt Requested.